Redgate SQL (Schema) Compare v14.4.4.16824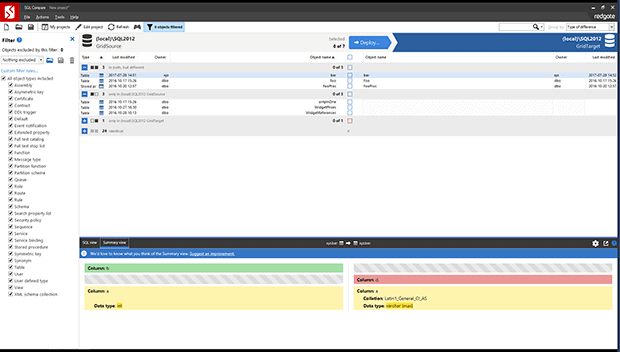 Redgate SQL (Schema) Compare v14.4.4.16824
Compare SQL Server database schemas, large or small, and including Temporal Tables, with advanced filtering of database objects. You can explore what's changed in each database object, down to individual lines of SQL. When you're ready to deploy, you can create an error-free deployment script in minutes.
Troubleshoot database differences and create reports in HTML or Excel.
SQL Compare is the industry standard for comparing and deploying SQL Server database schemas quickly and accurately.
71% of the Fortune 100 use SQL Compare to compare SQL Server databases – because it's relentlessly tested, easy to use, creates flawless deployment scripts, and saves time.
Whether you need to deploy changes or explore the differences between two SQL Server databases, SQL Compare helps you do the job quickly, simply, and with zero errors.
Save time comparing and deploying SQL Server database schemas with SQL Compare. Find and fix errors, and create deployment scripts in minutes.
Deploy with zero errors
SQL Compare scripts dependencies in your database in the right order, to make sure deployment is successful.
You get notifications about any issues, such as data loss, before you deploy.
Deploy changes directly
Migrate individual schema differences, a selection of them, or all of them.
Build sophisticated rules to selectively limit what to deploy.
You can run deployments directly from the UI or command line, save deployment scripts for later use, or automate your deployments using SQL Change Automation.
Find and fix problems in production
To fix errors in your production database, compare it to a backup, scripts in source control, or a database snapshot. You can deploy single objects to fix the issue fast.
If you need to fix static data, use SQL Data Compare to deploy changes without the need for full database recovery.
OR GET THIS FILE WITHOUT PLATINUM MEMBERSHIP - PRICE 80$ ONLY