Stellar Phoenix Database Repair for Oracle 4.0.0.0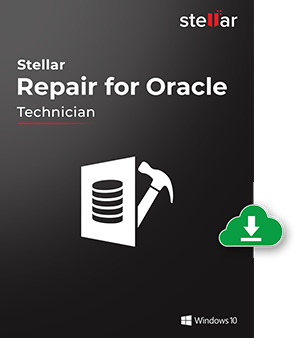 Stellar Phoenix Database Repair for Oracle 4.0.0.0
Stellar Repair for Oracle is a reliable database repair tool. It recovers Oracle database components from your damaged or corrupt DBF database file created in Oracle versions 10g, 11g, and 12c.
Repairs damaged database DBF file and recovers data
Recovers tables, views, table space, clusters, and cluster tables
Recovers triggers, roles, index, schemas, synonyms, and sequence
Recovers both primary and foreign key associated with tables
Displays preview of recoverable database objects
Supports recovery of deleted records of Tables
Selective Recovery of Oracle Database Components
Oracle database recovery software can perform selective recovery of the components in your Oracle database DBF file. It allows you to do so on selecting the components by placing check marks on them. With this, the repair process gets accomplished after scanning. It also allows recovery of the entire Oracle database.
'Find Items' Feature to Search Objects in Database
The software offers 'Find Items' feature that allows locating specific objects easily and without hassle. With this feature, the objects can be easily found for preview or recovery and prove to be useful especially in cases when the size of the Oracle database is too large to find objects manually.
Recovery of Oracle Database DBF File Components
This Oracle recovery software repairs damaged Oracle database DBF file and recovers all its components. These include Tables, Tablespaces, Materialized Views, Nested Object Types, Nested Tables, Nested Array Types, Triggers, Roles, Various privileges for Roles, Indexes, Stored Procedures, User Names (schemas), Clusters, Queries of Database Links, User-defined Functions, Packages, Package Body, etc.
Displays Preview after Scan
The software thoroughly scans the damaged Oracle database DBF file and then displays the preview of all the recoverable objects in a tree. From the enlisted recoverable objects, any component from the tree can be selected to get a preview on the right side of the interface. The preview is displayed despite your system not having the Oracle application installed on it.
Searches and Recovers Oracle Database
The software offers the option of 'Search Database' through which all the Oracle database DBF files present in your system can be found by selecting the drive from the 'Look In' box. These database files then show up with a creation date, modification date, size, and the name of the file. Thus, this feature is beneficial in cases when the location of the DBF files is lost or forgotten.
Recovers Queries of Oracle Database in a Text File
The Stellar Repair for Oracle software possesses the capability to recover the queries of views, procedures, triggers, package, package body, functions, and database links in text files. It can recover these components even from severely damaged Oracle database DBF files.
Recovers Deleted Records of Tables
The software provides the additional facility of recovering deleted records of Tables. To do so, you need to select 'Scan deleted records of table' checkbox to preview and then recover the deleted records.
Generates Detailed Log Report
On completion of scan, this Oracle database recovery tool generates a log report that contains the details of the process such as information on the number of existing and deleted records recovered, objects recovered, start date of the process, and end date. This report is displayed in the bottom of the software window and can be saved for future reference.
Recovers XML Data Type
The software supports the new Oracle XML DB feature and recovers all XML data in the DBF file of Oracle databases. It can easily recover columns in Tables and views with XML data type. It can also recover XML Schemas that are used to validate XML data types.
Compatibility
The software is compatible with several versions of Windows Operating System such as Windows 10, 8.1, 8, and 7. This makes it usable to a wide range of users across the globe using different OS versions.
Only for V.I.P
Warning! You are not allowed to view this text.