Telerik Testing Framework 2021.1.0309.1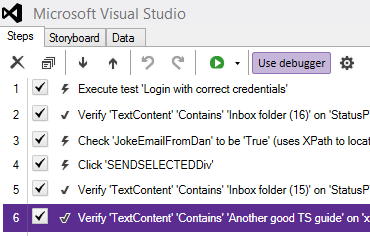 Telerik Testing Framework 2021.1.0309.1
Use the Progress Test Studio plugin for Visual Studio to create robust automated tests for almost any web and desktop app: HTML5, XAML, AJAX and MVC. Record and run tests against multiple browsers: Internet Explorer, Firefox, Chrome and Safari. Then further customize and extend them in C# or VB.NET. Easily update elements across all your test cases by using the Elements explorer. Debug both code via Visual Studio and recorded steps via the Test Studio Visual Debugger.
Integrate any build server with your recorded tests
Generate tests for NUnit, MbUnit, MSTest, or xUnit
Source control system integration
Native support for Telerik controls
Key Features
Rich-API
Rich API
Testing Framework exposes numerous properties and methods to help you easily build non-brittle, maintainable functional tests.
Easy-to-set-up-and-use
Easy to Set up and Use
Installing the Testing Framework is easy and straightforward. All you need to do is run the installer and then open your favorite IDE to get started with writing functional tests.
Test-HTML5,-AJAX,-XAML
Test HTML5, AJAX, XAML
Set implicit and explicit waits, test drag-n-drop and hovers, dynamic page elements, complex animations, generic and custom UI controls, and more.
Cross-browser-compatibility
Cross-Browser Compatibility
Expand your browser compatibility testing to all the latest major browsers: IE, Chrome, Firefox and Safari without ever changing your test case code.
Telerik-controls-support
Telerik Controls Support
Enjoy native support for Telerik UI controls for AJAX, Silverlight and WPF as well as Kendo UI web widgets. But you can write great tests without our controls too.
Only for V.I.P
Warning! You are not allowed to view this text.