Alteryx Designer v2021.4.1.04899 (x64)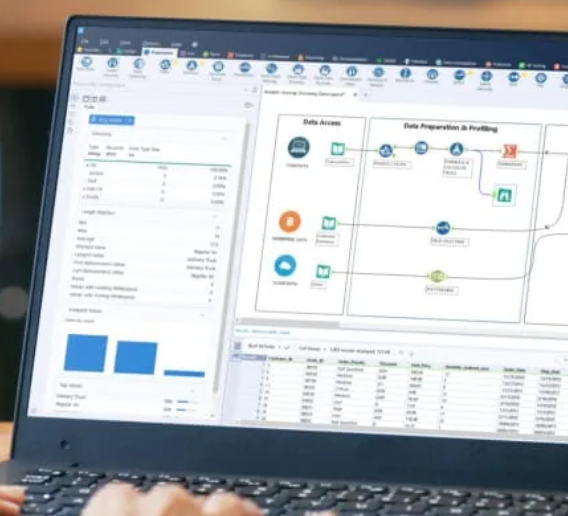 Alteryx Designer v2021.4.1.04899 (x64)
The leading solution for data prep, blending and analytics, with drag-and-drop capabilities that speed up every step of the analytic process. Drag-and-drop tools enable analysts to prepare & blend data up to 100x faster than traditional solutions.
Empower the Analysts
Self-service data analytics platform puts the power in every analyst's hands and removes expensive bottlenecks in the analytics journey
Stay in the flow
Prepare & blend disparate data, visualize & understand each change, analyze & discover insights, and visually communicate answers, all within Designer.
Dig deep into data
Code-free tools extend advanced analytics without the need for an advanced degree & code-friendly tools extends powerful customized code to enhance every analysis.
Enrich & extend
Enhance analytic workflows with 3rd party demographic, firmographic & spatial data or extend for other applications using our APIs & SDKs.
Intuitive Drag and Drop UI
Empowers every analyst to bring disparate data together, analyze, model & share those insights using drag-and-drop tools and track each step of the analytic process with a visual canvas that documents the analysis.
Comprehensive for End-to-End Analytics Automation
Create analytic workflows of any business process with 300+ drag & drop analytics automation tools
IIntegrate with 80+ data sources and output to over 70 different tools
Data Science Made Simple
Dig into trends and patterns with low-code, no-code predictive and prescriptive analytics
Extract data and insights from semi- and unstructured sources such as PDFs, text files and images
Customizable Analytics with Alteryx SDKs
The Alteryx SDKs allow developers and users to easily add custom tools and formulas to their tool palette using a variety of program languages
Cloud Connected
Native connectors to cloud data sources like Snowflake and Databricks
Scale data prep and analytic processes across cloud, on-prem, and hybrid sources