Absolute Database v7.92 Single User Edition Full Source (June 19, 2020)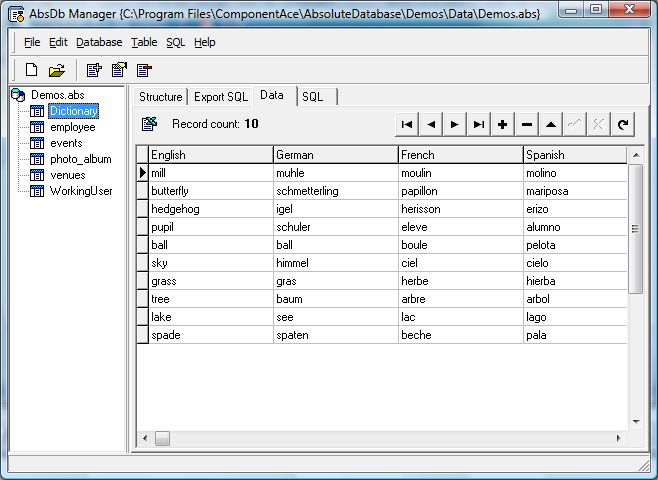 Absolute Database v7.92 Single User Edition Full Source (June 19, 2020)
Absolute Database is a Delphi database engine which lets you forget the Borland Database Engine (BDE). This BDE replacement is the compact, high-speed, robust and easy-to-use database engine. With Absolute Database you will not need special installation and configuration, it compiles right into your EXE. Make your application faster and smaller with Absolute Database BDE alternative!
Delphi 10.4, C++ Builder 10.4 Sydney support is added to Absolute Database, ZipForge, FlexCompress, Easy Compression Library, CompressionMaster Suite components. Upgrade is free for users of current major version of the product
Delphi 10.1, C++ Builder 10.1 Berlin
Delphi 10.2, C++ Builder 10.2 Tokyo
Delphi 10.3, C++ Builder 10.3 Rio
Delphi 10.4, C++ Builder 10.4 Sydney
An individual may use Absolute Database Personal in a project if he / she is the only user of this project. If your project is public or if you represent a company, you must order commercial edition of Absolute Database.
Key Features:
No BDE; no DLLs
Single-file database
SQL'92 (DDL & DML) support
Compatible with standard and third-party database controls
Single-user and multi-user mode (file-server)
Works great on all versions of Windows - from 98 to the latest, doesn't require any updates or service packs
Ultra-fast in-memory tables
Unmatched ease-of-use
Strong encryption
BLOB compression
Free for personal use
Full source code available
Royalty-free distribution
OR GET THIS FILE WITHOUT PLATINUM MEMBERSHIP - PRICE 80$ ONLY