Visual Guard Pro/Enterprise 2018.1.720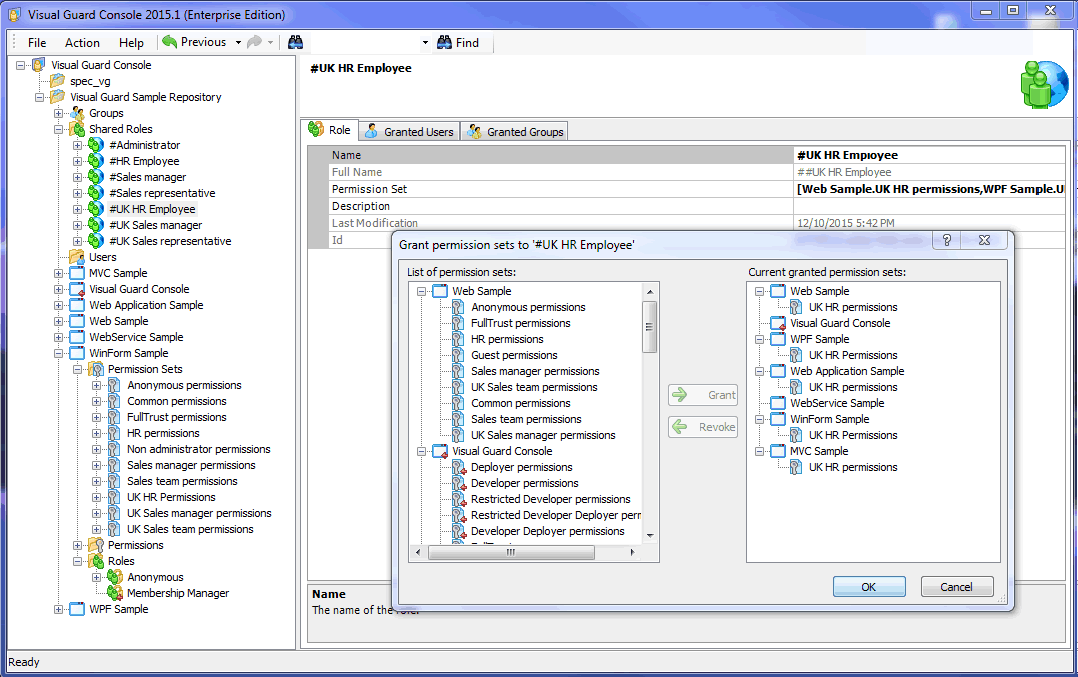 Visual Guard Pro/Enterprise 2018.1.720
Visual Guard keeps track of sensitive actions in a secured repository. You can then audit the security of your applications whenever required, send alerts by email, monitor critical activities in real time, generate graphs and reports... Visual Guard also helps comply with regulations like GDPR, FIPS, HIPAA, SOX, ISO...
Manage Users
Create, Read, Update and Delete Login/passwords accounts
Edit user accounts attributes
Declare Active Directory accounts
Define a password Policy
User self-service (reset password, lost password, self registration…)
Manage Permissions
Create, Read, Update and Delete Permissions, Permission Sets and Roles
Add or Remove Permission in Permission sets
Add or Remove Permission sets in Roles
Grant or Revoke Roles to Users
Grant or Revoke Roles to Active Directory Accounts
Enforce Security
Authenticate Users (Windows authentication, Login form, SSO, Strong Authentication/MFA…)
Load and apply user permissions
Supports Winforms, WPF, Webforms, MVC, Web Services, WCF
Easy integration with other tools
Functional and technical specifications
Analysis of existing applications, Interviewing users on security management rules, definition and attribution of permissions and user roles, definition and repartition of administration privileges, proposition of global or local organization of application security.
Development
Integration of Visual Guard in your applications, securing complex objects (Web services, classes…), development of specific components or adaptation of Visual Guard components to respond to complex functional or technical specifications.
Production
Installation and configuration of VG with ADFS, Installation and configuration of Web SSO with Visual Guard, Creation of a deployment procedure for security in production.
Control access to sensitive data inside your applications
Define which DATA and FEATURES users can access in your applications. Grant permissions in a graphical console, independent from your Code.
Grant access rights to users and groups
Powerful user account management features and user-friendly administration console for user provisioning and management.
Log data processing via the application
With Visual Guard you know exactly who did what in your application
Monitor and Audit sensitive activities
Monitor activities in real-time and review historical graphs.
Send email notifications on important events
Determine which events require special monitoring and Visual Guard will automatically send email notifications when they are triggered.
Detect data breaches
Review sensitive operations, detect suspicious activities, send email alerts and generate a comprehensive list of data illegally processed.
Implement Strong Authentication (Multi Factor Authentication)
The only MFA solution combining high level of security and ease of use
VG RUNTIME
VG Run-time applies the security rules to applications in production.
It provides the access control functionalities (authentication, permissions, logging…).
It is composed of several .NET assemblies and exposes a detailed API.
VG WINCONSOLE
The VG WinConsole is a Winform application.
Developers use it to define access rights to their applications.
To do this, they declare applications, permissions, permission sets and roles.
The WinConsole includes a Deployment Wizard, to deploy the security data in production.
It also includes the Permission Editor, to define dynamic permissions.
VG WEBCONSOLE
A Web application destined to Administrators and Auditors
Administrators use it to manage users and give them permissions.
Auditors use it to generate security reports or to review operations performed by users
VG REPOSITORY
The VG repository is a database that stores the security data (users, permissions, roles…).
This database is first deployed in test mode, and then in production, with your applications.
VISUAL GUARD SERVER
The VG Server allows an application to communicate with the repository.
The VG Server is used in the following situations:
- Complex architecture (the application cannot connect directly with the repository)
- Applications developed with technologies other that .NET or PowerBuilder
The VG Server is delivered with a specific administration console...
Only for V.I.P
Warning! You are not allowed to view this text.