Aspose.Slides for .NET v19.2.0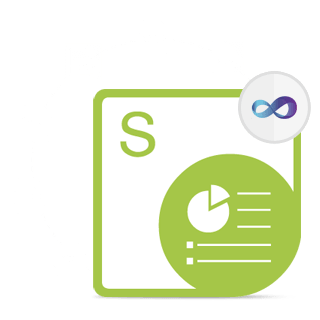 Aspose.Slides for .NET v19.2.0
Aspose.Slides for .NET is a unique presentation processing API that enables applications to read, write, modify and convert PowerPoint presentations. Being a standalone API, It provides the functionality to manage PowerPoint key features such as managing text, shapes, tables & animations, adding audio and video to slides, previewing slides and more without requiring Microsoft PowerPoint.
Aspose.Slides for .NET supports most of the Microsoft PowerPoint formats for processing and manipulation. Moreover, API offers a number of advanced features such as printing and rendering presentation slides to fixed-layout formats, HTML & images.
Input/Output
Microsoft PowerPoint: PPT, PPTX, PPS, POT, PPSX, PPTM, PPSM, POTX, POTM
OpenOffice: ODP
Output Only
Fixed Layout: PDF, PDF/A, XPS
Images: JPEG, PNG, BMP, TIFF, GIF
SVG
Web: HTML
Advanced PowerPoint Processing API Features
Create new slides or clone existing slides from templates Create shapes on slides Add text to shapes Support working with PowerPoint tables Save & load PowerPoint files to & from streams Handle text & shape formatting Apply or remove protection on shapes Scan text from presentations Add images to presentations Embed Excel charts as OLE objects in slides Support for Linked Ole Objects Generate presentations from database Support for MSO 2016 Charts Import & export HTML text in slides Support for ActiveX components Support for SmartArt shapes Protect presentations & resultant PDF Support for VBA Macros Print PowerPoint presentations Set Font Size of Individual Legend Create Stock Chart & Get Chart Image Change Series Color and its categories Set Chart Area Rounded Borders Set Font Properties for Chart Data Table
Presentation API Latest Features
Aspose.Slides for .NET API continuously enhancing its features by adding more functionalities. Here is the list of few picks.
Rasterization or vectorization of Shapes without text.
Obtain default table background through API.
Convert SVG images to shapes.
API has support for
Size represents property for Bubble chart
Office 365
Hiding left slide thumbnails pane in generated PPT
Comments replies
Setting chart external data source workbook path
Funnel charts and 2D map charts
External Excel workbooks
OpenDocument encryption, Text Highlighter, and Morph Transition feature
Setting Transparency property for shadow effects
Change the color of hyperlink text throughout a presentation.
Restricting local file system access when opening a document.
Add encoding meta tag when saving into HTML.
Settings for removing width and height attributes of SVG tag when saving as HTML.
API compliances with FIPS compliant algorithms.
Reliably Export Presentations as PDF, TIFF or XPS
Aspose.Slides for .NET has its own rendering engine, specially designed for rendering with highest of fidelity to the Microsoft PowerPoint. This feature allows you to export presentations to a number of standard formats such as PDF, TIFF and XPS with results identical to the original presentation. Moreover, in order to export a presentation, you only need to load the presentation file and call the save method along with the desired output format. It is that simple!
Complete Control Over PowerPoint Slide Elements
Aspose.Slides for .NET can handle all presentation slide elements including text box, table, rectangle, ellipse, polyline, auto-shape, picture frame, audio frame, video frame & OLE object frame. API provides well-designed set of classes that enables you to comprehensively manipulate each of these elements.
Detailed Formatting of Presentation Contents
It is possible to format text and shapes on slides in a presentation using Aspose.Slides for .NET API. Text is managed through text frames associated with shapes. Hence text is formatted using paragraphs and portions associated with the text frames. You can also manipulate attributes of shape element like position, size, line, image, text and fill.
SmartArt Creation, Manipulation & Formatting
Aspose.Slides for .NET facilitates in creating SmartArt shapes from scratch as well as provides the ability to access, manipulate or remove existing SmartArt shapes from a slide. Furthermore, the .NET Presentation API provides the ability to add, remove or iterate the nodes of a SmartArt. It is also possible to dynamically modify the SmartArt's appearance such as setting style, color & layout.
Set Security Constraints on Presentations
Aspose.Slides for .NET API provides the facility to lock presentation files in order to protect the contents from changing. It also supports password protection for presentation files as well as for the converted PDF file. Moreover, you may set read-only access mode for the generated presentations and its document properties.
Create Thumbnails of Presentation Slides
Aspose.Slides for .NET allows to create thumbnails of the presentation slides so that you may distribute slide images to those users who do not have the PowerPoint application installed on their machines or you may use images in your custom websites; the possibilities are limitless.
Microsoft Office Automation – Not Needed
Aspose.Slides for .NET is built using managed code that does not need Microsoft Office or Microsoft PowerPoint to be installed on the machine to work with PowerPoint document formats. It is a perfect Microsoft Office automation alternative in terms of supported features, security, stability, scale-ability, speed and price.
Only for V.I.P
Warning! You are not allowed to view this text.