Telerik Test Studio 2019.2.619.0 + Dev Edition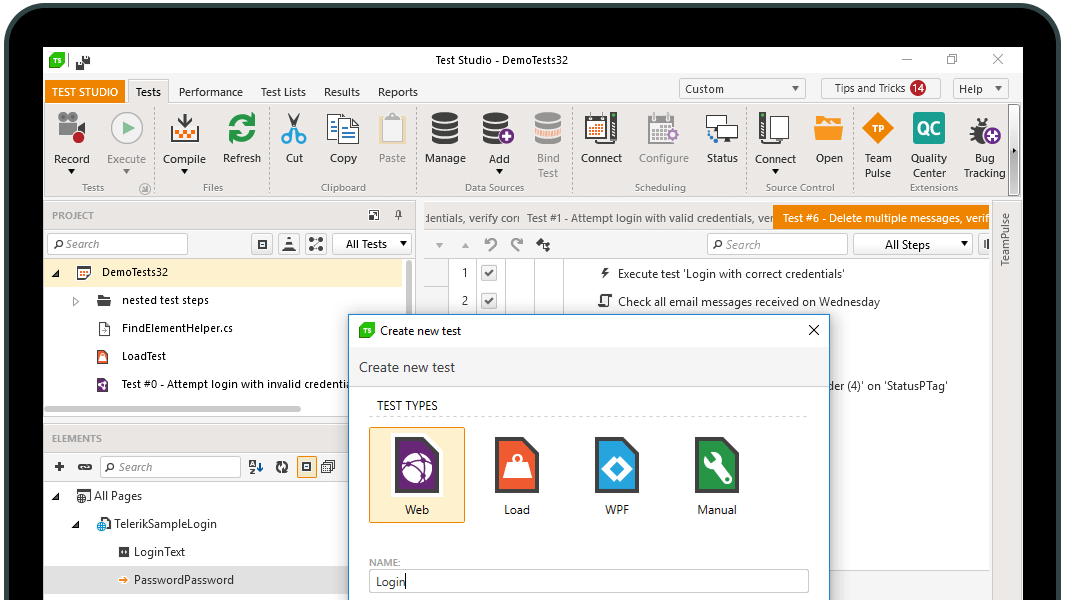 Telerik Test Studio 2019.2.619.0 + Dev Edition
The Ultimate Test Automation Solution for Web, Mobile and Desktop. Easily follow any kind of test scenario by using the powerful cross-browser point-and-click recorder to quickly create tests. Use rich set of actions and verifications applicable to any UI element including Kendo UI widgets and Telerik UI controls.
Reduce the Cost of Bugs
Reduce the cost of bugs by finding them on time. Avoid regressions by creating tests once and running them automatically with advanced scheduling across all browsers. Find problems as soon as the test fails, and immediately log them to your bug tracking system.
Test More in Less Time
Reuse elements, steps and code to minimize the effort needed for complex test scenarios. Utilize distributed test list execution to manage your testing time and free up resources for more pressing, business-critical scenarios.
One test automation tool to tackle all of your Functional, Performance, Load and API testing needs. Build automated tests for the most current technologies – Angular, React, WPF, MVC, Ajax, RESTful, etc. Easily build and continuously execute mobile tests for iOS and Android. Take advantage of ultimate support for Telerik UI controls and Kendo UI widgets.
Functional UI Testing
Record test scenarios quickly and easily with Test Studio's point-and-click interface, which is augmented by Telerik-exclusive features like a visual storyboard and elements annotations.
Mobile Testing
Craft automated tests once and apply them across multiple devices and OS versions. The browse-and-record functionality allows users to capture test steps quickly and replay continuously for even the most complex mobile testing scenarios.
RESTful API Testing
Design tests for your APIs using the powerful recorder and strengthen them with code behind, if needed. Add conditional logic, share dynamic variables between tests and steps, handle dialogs and more, without a single line of code.
Load Testing
Allow users to capture HTTP traffic from desktop browsers, mobile devices and web services. Continuously replay captured traffic with thousands of concurrent virtual users, spread across multiple machines to model the expected use of your web server.
Performance Testing
Build in-depth performance tests. Verify the behavior of your application by reusing your functional UI web tests and measuring performance properties.
Easily tie in with market leading automation servers and quickly integrate with the systems you already have in place. Use the out of the box integration with industry leading bug tracking, source control and build/CI/CD systems or leverage the Test Studio rich and powerful API to create custom solution that meets your requirements.
Tie in Test Studio with Any Automation Server
Leverage the power of your existing testing environment to schedule and execute test runs. Run tests around the clock. Gain better efficiency with parallel and distributed test list execution.
Bug Reports with a Single Click
Publish bug reports with a single click to MS TFS or Jira. Set up automatic reports for your working project. Send tests files and results directly to Quality Center.
Rich and Powerful API
Leverage Test Studio's rich and powerful APIs and framework to extend and customize the tool to your needs. The proprietary architecture easily integrates easily with the systems you already have at your company.
Facilitate better collaboration between .NET developers and QA engineers, boosting your team's productivity. Interplay between code and code-less steps in order to build more complex test scenarios.
Telerik Test Studio for Developers
Use standard .NET programming languages you like. Unlike other testing solutions that force you to use proprietary languages, with Test Studio you leverage real coding languages like C# and VB.NET.
Apply continuous integration with source control and build server execution to allow QAs and developers to collaborate seamlessly focusing on their roles and working independently.
Adopt Test Studio Seamlessly
Test Studio will get you quickly up to speed with point-and-click interface, element annotations and intuitive UX. Arm the team with a tool that keeps pace with the speed and flexibility of the Agile process and existing CI/CD infrastructure.
Update Once, Apply All
Easily update multiple tests at once using the Intelligent Element Locator and Shared Element Repository. Avoid duplication and reduce maintenance by reusing elements, steps, tests and code. Track changes in Test Studio with out-of-the-box TFS and Git integration.
Comprehensive Reports
Get comprehensive timely reports with manual and automated test execution results. Publish substantial feedback for bugs and regressions to allow developers to fix them before the next release.
Better Transparency
Increase transparency on the status of the application under test by sharing execution results. Easily communicate status to your management and development teams by exporting results in different formats.
Industry Leading Technical Support
Leverage the outstanding Telerik tech support during your trial and with your purchased license. We'll guide you through step-by-step, to help ensure the success of your test automation project. Get questions answered directly from the engineers who built Test Studio.
Thousands of Happy Customers
Join the thousands of renowned customers that rely on Test Studio to ship quality software on time and on budget: Symantec, GE, Dell, PWC, Microsoft, HP and more.
Only for V.I.P
Warning! You are not allowed to view this text.