EO.Wpf 2019 for .NET v2019.2.42.0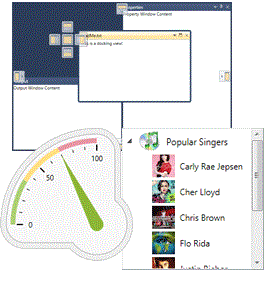 EO.Wpf 2019 for .NET v2019.2.42.0
EO.Wpf for .NET is a set of WPF controls. It incluces a large set of commonly used controls (such as Buttons, ProgressBar, TreeView, Menu, Calendar, etc), an intuitive docking view solution and a powerful gauge framework.
Product Highlights
Dozens of High Quality Controls
EO.Wpf is not a school hobby project. We are professionals. It contain a large set of controls that offers an enhanced version of almost all commonly used WPF controls;
Built-in Skin and Theme Engine
EO.Pdf offers an enhanced skin and theme engine that allows you to dynamically switch application theme and control skins. It also offers various built-in skins for various EO.Wpf controls;
Support all Major .NET and Visual Studio versions
Supports .NET 3.5 and above. Automatically integrated with Visual Studio 2008, Visual Studio 2010 and Visual Studio 2012;
Extensive documentations and samples
The product is documented in great detail and is complemented with a large set of samples that demonstrates how to use each features. Sample source code avaialble in both C# and Visual Basic.NET;
Best Product Support in the Industry
Have a technical problem or question? We understand our customers are developers. Contact us and our developers, not clueless "customer service representatives", will get back to you within one business day.
Only for V.I.P
Warning! You are not allowed to view this text.