CompleteFTP 12.1.0.0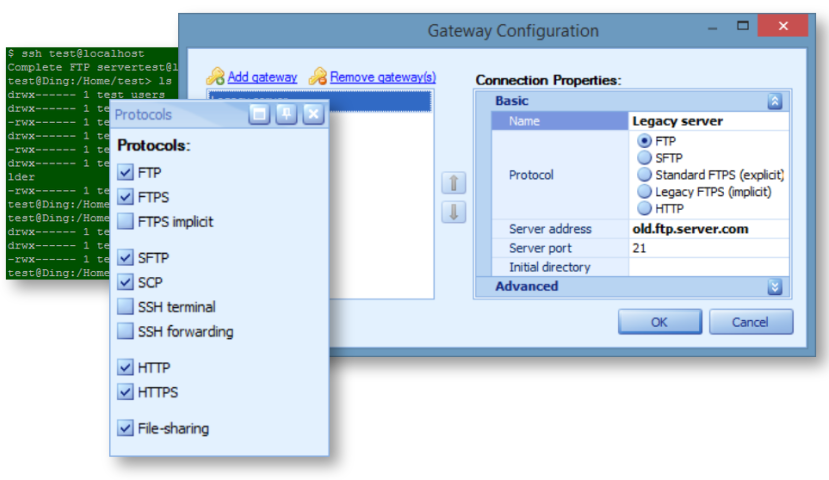 CompleteFTP 12.1.0.0
Companies worldwide rely on the CompleteFTP family of products to securely transfer confidential files. From the entry-level free FTPS server, through the powerful mid-range SFTP server for Windows, to our state-of-the-art, enterprise-level Managed File Transfer server, the CompleteFTP family offers an edition for every application.
CompleteFTP is packed with features that help you easily integrate secure file transfer into your business processes.
CompleteFTP is easy to install and administer
CompleteFTP is highly customizable
All editions are actively maintained and supported
Single click upgrade to unlock advanced features as required
Professional and Enterprise editions include user licenses for CompleteBox file-sharing.
Protocols
SFTP / SCP / SSH
FTP / FTPS
HTTP / HTTPS
SSH terminal logins
Users
Unlimited Windows and non-Windows users in all editions
Windows domain (AD) users
Authentication via an external database
Authenticators via custom .NET extensions
Files
Disk quotas and bandwidth limits
Virtual file systems
File system permissions, navigate into ZIP files, and disallow file-types by file-extension
Mount remote file-systems via FTP/SFTP (i.e. multi-protocol gateway)
Web
HTTP / HTTPS
File-management web-apps (mobile-friendly)
Build web-apps using server-side jаvascript
Box-style file-sharing (from Web and Windows app)
Integration & Extensibility
Multi-protocol gateway
Events and email notifications
Process triggers (EXEs, batch script, Powershell script, FTP script, .NET or jаvascript)
IP filtering and auto-banning
Security
Cryptography (SFTP, SCP, FTPS, HTTPS, SSH)
Allow/deny clients by IP or host-name, and auto-banning
Auditing of user activity
FTPS client & server certificates
Scalability
Clustering & multiple servers (load-balancing & fail-over)
Multiple sites
Administration
Dashboard-style interface
Remote administration
Performance monitoring capabilities, connection monitoring and control
Web App administration (mobile-friendly)