Time Stamp Server for IIS 4.0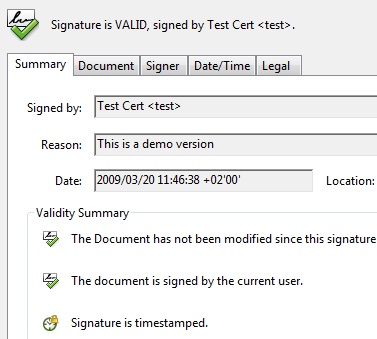 Time Stamp Server for IIS 4.0
Time stamping is an important mechanism for the long-term preservation of digital signatures, time sealing of data objects to prove when they were received, protecting copyright and intellectual property and for the provision of notarization services.
Our Time Stamp Server works as an IIS application for most Windows webservers. It means that it is not required to operate an extra TSA machine.
Benefits:
– IETF RFC 3161 compliant
– Microsoft Authenticode and Java Signature compliant
– Works with HSM (Hardware Security Module) devices
– Support for CNG (Cryptography Next Generation) certificates
– Support for ESSCertID and ESSCertIDv2 according to RFC 5816
– Easy to use through friendly programs like Adobe Acrobat or PDF Signer
– Compatible with Microsoft Office 2010/2013 XAdES-T or higher digital signatures
– Supports up to 4096 bit RSA keys
– SHA256, SHA512 support
– PKCS#11 support
– MS-CAPI support
– Up to 20 timestamps per second
Requirements:
– Windows operating system with IIS
– Microsoft .NET Framework 4.0
Only for V.I.P
Warning! You are not allowed to view this text.