TechSmith Camtasia 2018.0.4 Build 3822 (x64)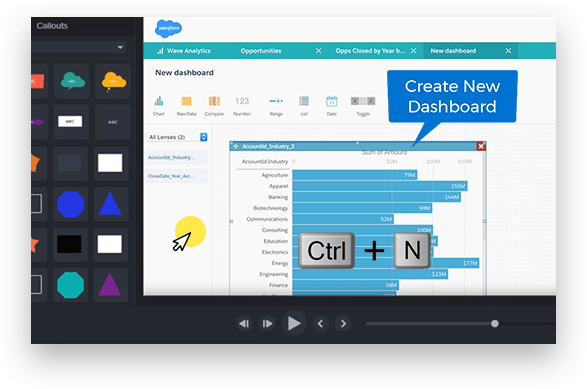 TechSmith Camtasia 2018.0.4 Build 3822 (x64)
Camtasia makes it easy to record your screen and create polished, professional-looking videos. Record anything — your whole screen or just a window. Or, add video, images, audio, and PowerPoint presentations that you already have. A simple timeline makes editing video easy. Combine or split clips, trim, and speed up or slow down footage. Then, instantly preview inside the video editor. Give videos polish with professional video editor effects. Add highlights, animation, titles, transitions and more. Simply drag and drop the effects onto the timeline.
Everything you need for stunning video
Simply bring in your footage or record a video of your screen, then use the simple editor in Camtasia to create a high-quality video.
Choose your footage
Create a great looking video, even if you've never made one before. Camtasia makes it easy to record your screen or import your own camera footage.
Make your edits
Edit videos in no-time. Our drag-and-drop video editor lets you easily add professional-quality titles, animations, music, transitions, and more.
Create your video
Anyone can make an engaging video with Camtasia. You don't have to spend thousands of dollars to outsource your videos or spend months learning a complicated system.
Stunning video effects
Apply Behaviors that are perfectly designed to animate your text, images, or icons. Get a crisp, polished look without being a professional video editor.
Drag-and-drop editing
What you see is what you get. Every effect and element in your video can be dropped and edited directly in the preview window. And you can edit at resolutions up to beautiful 4K, for clear video at any size.
Exceptional performance
Camtasia takes full advantage of your computer's processor with 64-bit performance. You'll get fast rendering times and enhanced stability—even on your most complex projects.
Animated backgrounds
You'll have access to a variety of backgrounds that grab attention right from the start.
Music tracks
Use music to set the mood of your video. All tracks are royalty free and safe to use on YouTube and Vimeo.
Icons
Choose from hundreds of icons, or bring in your own straight from your computer.
Motion graphics
Get lower thirds, intro slides, and more so you can start quickly and look great.
18 September, 2018: Camtasia (Windows) 2018.0.4
Added support for French language.
Added a preview of theme colors to the Theme Manager window.
Updated SmartPlayer to version 5.17.1.
iTunes Information tab removed from the production wizard.
Cursor clicks now render correctly at any DPI.
Non-English characters render correctly for legacy-style callouts.
Fixed import/upgrade of Camtasia 9.x libraries with asset names containing non-English .
characters
Automatically-named recordings numbered above 10 are now ordered correctly on the timeline.
MOV files recorded on iPhone 6 phones now render correctly in software-only rendering mode.
Fixed a crash when trying to change the cursor for certain features on the timeline.
Fixed a bug that prevented updating media with images using a .jpeg extension.
Fixed a bug that caused captions to display off-center in video productions.
Fixed a bug that caused productions to hang when producing to multiple files using markers.
Animated GIFs with large dimensions now display correctly.
Fixed a bug that caused the Recent Projects window to clear out prematurely.
Fixed a bug that caused videos with non-square pixels to appear squashed.
Fixed a bug that caused callout text to render inconsistently when flipped along its Y-axis.
Fixed a bug that caused an error dialog when editing library assets.
Only for V.I.P
Warning! You are not allowed to view this text.