Net Monitor For Employees Pro 5.7.1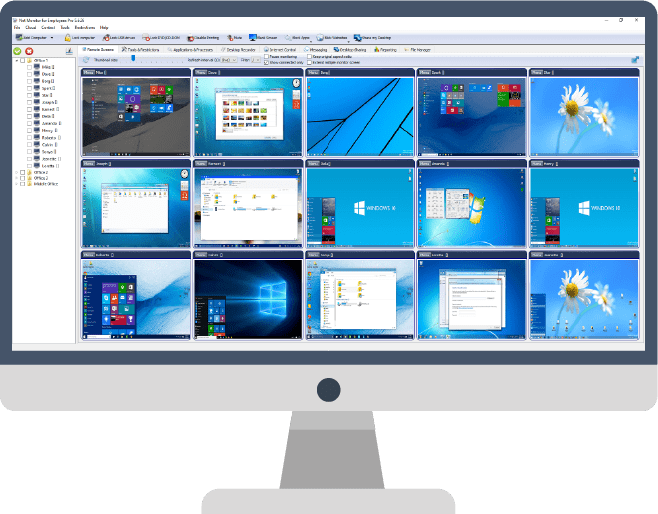 Net Monitor For Employees Pro 5.7.1
Employee Monitoring Software for your Office. Stop employees wasting work time on illegal activity and keep records of such attempts. Employee surveillance is an established method used by many companies to help prevent and detect data breaches that can cost their business a fortune.
Employee Monitoring Benefits
Employee surveillance is an established method used by many companies to help prevent and detect data breaches that can cost their business a fortune.
It is an effective way to boost workers engagement and optimize working processes.
Computer monitoring gives companies an overall picture of how work is done in and out of the office.
Employee Computer Monitoring and Tracking Will Help You
Workers may become disengaged when working remotely.
By using computer surveillance software an organization can lower risk and become more profitable.
Gathered data can be used for analyzing bottelnecks, unusual patterns, and other potential issues.
All this can help managers to improve the business process to gain productivity.
Introducing Net Monitor for Employees Pro
The Net Monitor for Employees Pro is an employee monitoring application that allows managers and business owners to track their worker activity, work engagement, performance, and productivity.
If you want to monitor all employee activity, you need nothing more than installing our software
You don't need to register or enter a credit card - just download and install - no questions asked.
Computer Monitoring, Staff Activity Tracking, Desktop Recording, Reporting...
Monitoring your staff, preventing insider threats or just helping your workers can be difficult without proper computer monitoring and tracking software.
Luckily Net Monitor for Employees Pro contains a lot of features that will help you to track all your employee activity. Here are some of those features:
Employee Activity
Monitoring
Supervise staff activity by watching and recording live computer screens, web browsing history, applications use, keystrokes pressed...
Use stealth mode if needed to hide your presence.
Computer Screen
Recording
Record your staff live computer screens even when you are away and you are not monitoring.
You can watch recordings later at any time.
Activity Logging
and Reporting
Log detailed worker behavior. Logging can be done in the background even when you are not present.
Create reports that contain data for visited web sites, application usage, keylogger...
Applications and
Internet Blockings
Prevent worker to access certain web sites or start forbidden applications.
Forbidden web browsing attempts are logged and will appear in reports.
Monitor Live Computer Screens
The application allows you to see what is currently displayed on an staff memeber computer monitor. This way you can quickly discover if your employees are doing the tasks they are paid for.
All employee computer screens can be displayed at once since they can be displayed as thumbnails with configurable size.
You can simply zoom in to any worker computer screen by double clicking the thumbnail.
Record Staff Desktop Screens
Computer Screen Recorder allows you to record worker's screen either at specific intervals or in live video. Recorded screens are saved in MPEG4 (video) or JPEG (pictures) format.
The recording can be scheduled for specific days and time intervals, so it can be done automatically in the background. For this reason, you don't need to be present or have a network connection at that time.
Log Employe Activity
The Logging & Reporting functionality allows you to track person's application or process usage, like which applications were used and for how long.
Additionally, you can gather internet browsing data to see what your employees are browsing the most.
The optional keylogger allows you to track what persons are typing into which application.
Why Many Companies Use Employee Monitoring Software
We all live in a very competitive world where productivity is not just a key to success but in many cases a condition to survive in this result-driven time.
Without using proper surveillance software is very difficult to find whether the employees are doing their work effectively because you can not know how much time they spend working and how much of work they actually get done.
Studies show that in some cases almost half of the work time is not effectively used. Even if this figure is just 30% is still a lot and calls for an action to improve it.
Facing such a task can be difficult without a proper technology solution. For this reason, many managers or team leaders use employee computer monitoring software to help them improving staff productivity.
How Does Employee Computer Monitoring Increase Productivity
It is all about data, facts, and results. Employers need an effective tool to measure how a team or individuals perform.
Performance tracking gives employers a chance to find talented individuals in the company and use their potential. The tool is useful for staff as well since they don't need to worry about being paid less or getting fired unfairly. Employees can simply prove how many hours they spent working.
On the other hand, employers can find which employees don't perform well and help them to achieve better results.
As you can see the employee monitoring software is an essential tool that helps managers and team leaders make better decisions.
Remote Real Time Monitoring
Monitoring employees can be difficult if they are working outside of the main office building. Such work usually happens when your workers are working at the customer, on the field or they are just working from home.
To perform remote worker surveillance you need to use computer monitoring software that can do employee computer monitoring over the Internet.
The Net Monitor for Employees can do such real time monitoring by using a Cloud connection.
Which Employee Activity Can be Monitored?
You may think that employee monitoring is something recent from the IT era, but is not. It was invented at the end of the 19th century in a form of timesheets where worker attendance was tracked.
In a modern time employee activity is tracked by using advanced monitoring software.
A powerful employee computer monitoring software can track almost all employee activity in real time, like:
Live computer screens
Running applications and processes
Visited web sites
Keystrokes typed
...
Is Employee Monitoring Something I should do?
The globalization and competitive world is forcing us to act quickly to stay ahead of the competition. For this reason, many managers are seeking tools that will help them with this mission.
The employee computer monitoring applications are just some of those tools that can help you. And yes, your competitors are probably already performing employee monitoring in their companies to improve productivity and try to step ahead of you.
Now is your time to decide if employee monitoring is right for you. To answer this question you need to ask your self what surveillance software can do for your team.
If you want to monitor almost 100% of employee activity then employee computer monitoring software provides just what you need.
Maybe you just want to prevent harmful activities like installing dangerous applications or surfing forbidden web sites - in such case the application can limit employee activity.
Also if you just want to investigate productivity issues or performance bottlenecks the employee monitoring software provides data that can be used for such analysis.
As you can see employee monitoring is a useful method that can help you in many ways and it brings many more benefits as it costs.
Introducing Employee Monitoring Software to Your Team
As a manager, employer, or team leader, you probably see no obstacles to use employee monitoring software in your office since it is your decision to installing it or not. Anyway, it is a good practice to get your team informed and involved before you start with computer monitoring and performance tracking.
Researches show that when activity and performance monitoring is directly linked to rewards, such tracking brings many positive effects regarding staff performance.
Here are just some of the benefits you may want to point out:
Possibility to work remotely from home is those days an attractive option for many staff members
Additional rewards for hard-working employees, thanks to better and more accurate reporting
More proofs that can be groud for promoting individual team members
Better collaboration with other team members
Only for V.I.P
Warning! You are not allowed to view this text.