Apache Logs Viewer 5.45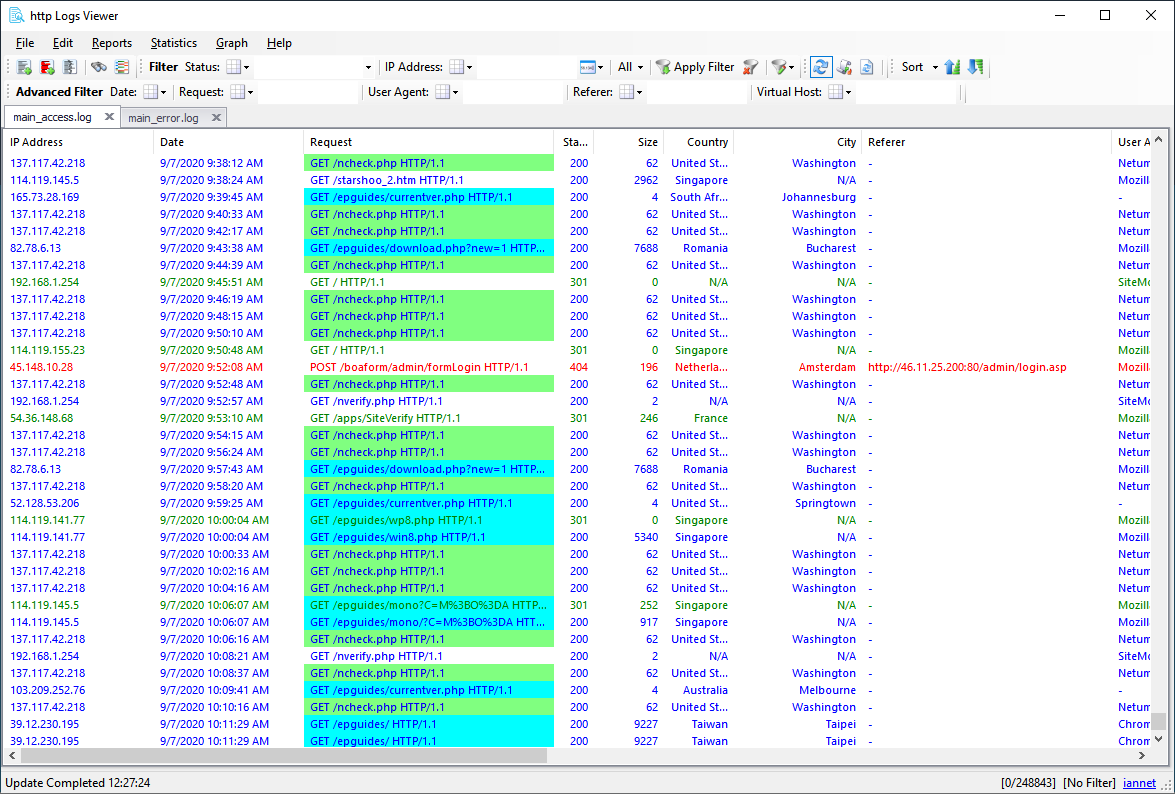 Apache Logs Viewer 5.45
With apache logs viewer you can easily filter and analyze Apache/IIS/nginx log files. Search and filter functionality are built in. Custom log formats are also supported. Apache Logs Viewer has over 75 pre defined reports to enable you to quickly extract the information that you require from your log file. Apache Logs Viewer automatically adds country information to your log file enabling you to easily track the location of your visitors. Understand who your visitors are and what they are using such as Browser, Operating System, Mobile device etc.
Apache Logs Viewer (ALV) is a free and powerful tool which lets you monitor, view and analyze Apache/IIS/nginx logs with more ease. It offers search and filter functionality for the log file, highlighting the various http requests based on their status code. There is also a report facility, thus you can generate a pie/bar chart in seconds. Together with this there are also statistics where you can get the top hits, top errors, number of status codes, total bandwidth and more.
Analyse Logs
With Apache Logs Viewer you can easily use it to analyze log files and filter based on complex requirements that you have to understand more clearly the meaning of your log files. Log formats supported include:
Apache Apache server common, combined and custom logs IIS Internet Information Services W3C logs nginx nginx server logs Wamp Wamp server logs
Features
Apache Logs Viewer is a great tool to use for web analytics. Use it to get your website more productive , detect errors to fix them and much more.
Reports Get visual representation (pie/column charts) to visually illustrate the data in the log files. Statistics Extract important statistics from your log file data Geographical Data Determine the visitors originating country Search and Filter Understand the referrers linking to your website and any search terms used.
Features
Apache Logs Viewer comes packed with a variety of features enabling you to dive into the log file and extract data quickly. Log files are rich in data waiting to be consumed giving you unique power to enhance your website. The below is a list of some of the main features available in Apache Log Viewer.
Supports Common/Combined/Custom and additional Apache/nginx logs.
Supports NCSA/W3C IIS logs
Handles multiple logs
Supports compressed .gz logs
Supports IPv4 & IPv6
Split logs functionality by size/date
Monitor logs in realtime (with automatic refresh) both local and remove via FTP/SFTP
Highlight requests by status code
Converts IP & IPv6 to Country
Search by any combination of Request, Date, IP, Referrer and UserAgent
Filter by any combination of Status/IP Address, GET, HEAD, POST Requests, Date, Referrer or User-agent
Export to text file (txt), comma separated value (csv), log file or html
Various Graphical Reports (Pie/Bar/Line/StackedBar) (see below)
Various Statistics (see below)
You can view some screenshots from here.
Some of the Reports: (Pie/Bar/Line Graph)
User Agents [ View Sample ]
Hits each Day
Visits by Country [ View Sample ]
Visits by IP *
Visits by Request *
Visits by Referrer *
Visits from Country * [ View Sample ]
Visits by User Agent (Browser) *
Unique Hits *
Bot Hits *
Hits per hour (from IP/for Request)*
Request Analysis *
Traffic Sources *
Geo Country Visits [ View Sample ]
Search Visits
Spider Visits
Bandwidth *
Operating System *
Status Code (per day or global) *
and many more…
View some of the samples Reports
* Report is available with a valid Unlock Code
Statistics:
Total Hits (by days)
Status Codes (by days)
Bandwidth (by days)
Top IP Addresses *
Top Requests *
Top Countries *
Top 404 URLs *
Top Referers *
Top User Agents *
Bot IP Addresses *
Country IP Addresses *
File Types *
Referrer Visits *
Referrer Hotlinking *
Search Terms *
Visits Count *
* Statistics is available with a valid Unlock Code
Need a sample log file to test ALV? Download one from here.
Other Logs
If ALV does not support your log format then contact us and send us a sample of the log file. If the syntax is valid we will check how we can add it to ALV.
New Version v5.45 released on 17th March 2019.

FIX: WebLogic W3C log file format support
FIX: Validates IP Address regex include/exclude input
FIX: Exe signed with a new Digital Certificate
Only for V.I.P
Warning! You are not allowed to view this text.